ROSSUL Kicks Off 2022 With a Five Star Clutch Review
We meet a lot of clients in our line of work. Nowadays UX and UI design have become more or less essential services for any business that wants to stand out in their industry. This has led to us acquiring more clients with each passing month and we're very happy with the growing demand.
One of these clients decided to give us the treat to start off our 2022 by writing a five-star review
for us on Clutch.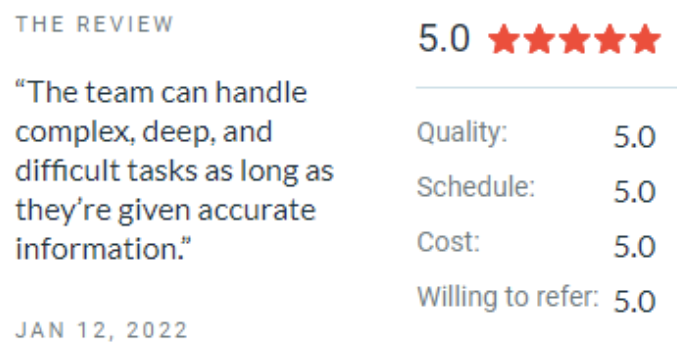 This client is in the business of planning and organizing public transit systems through the use of enterprise software. They wanted new UX and UI designs for their platforms and chose to partner with the best team in Canada to do it.
We began the project with an analysis of their business through collaboration sessions and knowledge-sharing meetings. The analysis included discussions regarding their data capabilities, their connections, their audience, and ultimately what they wanted to get out of the engagement.
The client was quite happy with the results of the project in terms of quality as they've been receiving positive feedback from their own customers about it. We aimed to exceed our client's expectations for the project and were quite happy to find that we did.
It's reviews like these that confirm our value as a business resource to all of our potential clients. We make great efforts in marketing ourselves as a reliable partner that can deliver any kind of requirement they'd need. But nothing we do compares to a simple statement from a former customer simply stating it as a fact.
Looking back at all we've done since creating our profile on Clutch, we're glad to say that we've accomplished a lot as a team. Every review is evidence of the positive impact we've made on each and every client that chose to work with us.
However, we recognize that there's still a lot of work to be done and there are more companies that need the guidance and support that we offer. If you're looking for a competent UX and UI design team that will tell you what you need according to your business interests, we're the one you want.
Contact us today and we will leverage all of our team's expertise and experience to provide a design that won't just make you stand out from the field visually but will be easy to use as well.