Build Intuitive UX B2B Solutions UI Design Services
GRAPHICAL USER INTERFACE (GUI) DESIGN EXPERIENCE
The creative process that goes into effective GUI design requires an in-depth understanding of a user's needs, as well as an understanding of the expectations of their industry. Whether it's for a web or mobile app, the best GUI design understands that form and function go hand-in-hand. GUI is a tool for helping users achieve their goals, and GUI designers that privilege style and trends over consistency and functionality won't deliver a product with strong long-term value.
View our Industries page to see some of the ways we've developed effective user interface design tools for clients in a wide range of sectors. We can assist with some or all stages of a project's development cycle, and we are flexible enough to adapt our creative and design processes for any type of client. Whatever the specifics of your business, we'll make your users productive and develop innovative solutions that help you achieve your long-term goals.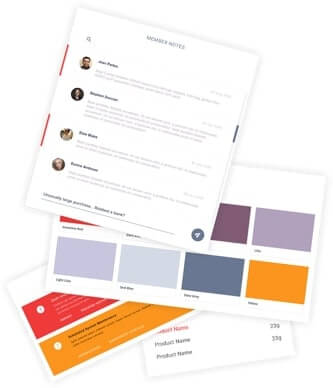 FEATURED PROJECTS
ROSSUL – A TOP WEB USER INTERFACE DESIGN FIRM
Many large companies might not have the skills in-house to achieve the GUI design quality they want. By working with ROSSUL, we'll help you create a solution that is functional and high-quality. ROSSUL is an innovative UI design company – one of North America's top firms in the space. We specialize in graphical user interface design and development, and we work hard to build customized solutions that make the most sense for your particular needs.
USER INTERFACE SOLUTIONS
See our UI design services in action by visiting our Portfolio page to view some of the work we've completed for past clients. Everything we do begins with a thorough understanding of your users and their needs. Unlike other GUI designers, who approach each project with a preconceived set of notions, we take the time to discover what's unique about your business and your application's users. This allows us to develop customized GUI designs that are effective and drive success for your business.
If you're not convinced that there's a clear link between UX/UI design and business success, contact ROSSUL directly. We'll demonstrate why we're one of the top UI design firms working today by identifying innovative, research-based ways to make your critical apps more functional, more intuitive and more attractive to users. Call or email our office to get started.
What Our Clients Say
Eli and his team not only met our expectations, they exceeded them. They delivered ideas, artwork and mockups that gave us the look and functionality we needed with an efficiency that got us our application in record time.
David Goldsmith
Global Discipline Director Governance,
Excellence and Best Practices
Hatch
Rossul helped bring Libro's vision to life, ensuring strong results through user testing and helped build a roadmap for future installations. Rossul's creative approach to design and knowledge of how users truly use the web has helped set Libro apart.
Michael Ketelaars
Digital Banking Manager
Libro Credit Union
I would highly recommend Elia and his team, they really "get" UI and UX, and won't compromise on their approach, ensuring you get the best possible solution!
Dave Millier
CEO
Sentry Metrics