Best UX Design Schools 2020
The field of User Experience (UX) design is constantly growing and evolving, and with it are the possible post-secondary and higher education options for future UX designers. We wrote about the best UX design schools back in 2018, and now we will be providing an updated list with the best options for UX students.
User experience is a fairly new discipline within academia. While many programs offer UX design courses as part of their modules, programs dedicated solely to UX Design are less common. Throughout this list, we hope to highlight some of these amazing programs and certifications to help both future and current UX designers find the right fit for their needs.
What Makes a UX Design School the Best?
This list aims to identify the best UX design schools for different educational needs and goals. We hope to offer an array of options that are based on a variety of factors, such as (but not limited to) academic level, tuition costs, and completion time. For this reason, we chose not to display the schools in any hierarchical order, but instead to highlight schools by the unique characteristics that set them apart from the rest.
Best Canadian Undergraduate UX Design Program
Wilfred Laurier University, Brantford, Canada
Wilfred Laurier University offers a User Experience Design (BDes) undergraduate programming for current and incoming students at their Brantford campus. WLU stands out from other Canadian universities in that they are the only school to house a program dedicated solely to User Experience Design. Whereas other universities, such as Carleton U and Waterloo U, offer courses or concentrations in User Experience Design, they are offered as part of a broader design program.
Laurier's UXD program, established in 2017, offers students a well-rounded design education, with first-year courses focusing on design thinking, information, and graphic design. Here, students are provided with several hands-on projects as Laurier works closely with local organizations to give students opportunities to create design solutions for products, services, and content. Further, students are also able to apply for admission to a co-op program at the end of their second year, providing them with the ability to gain valuable work experience before graduation.
Best for: Students who are seeking an undergraduate program explicitly focused on User Experience Design with co-op and hands-on opportunities.
Average Completion Time: 4 years
Cost: $8,392 – 11,507*/year
*cost reflects domestic tuition and excludes residence, meal plan, and personal expenses
Best Canadian UX Design Graduate Certificate College Program
Humber College, Toronto, Canada
Humber College offers a User Experience (UX) Design graduate certification as part of its Continuing Education program. This certificate focuses on teaching students how to conduct design research, generate design problem hypotheses, create design process plans, conduct the prototyping process and ultimately, how to solve design problems effectively and provide UX deliverables. Using a human-centered approach, students will also learn about design systems and interaction design through the industry-standard quality assurance methods, as well as how to produce user interfaces that align with corporate strategies.
Students must complete two mandatory work placements prior to graduation. These placements will provide students with opportunities to gain work experience and learn alongside UX professionals to expand their skills. One key advantage of Humber College is its facilities. More specifically, Humber College is home to a Usability Lab (called the "Live Lab) which was specifically designed to conduct usability testing at varying levels of sophistication.
Best for: Professionals who want to strengthen their UX design skills and gain a competitive edge.
Average Completion Time: 2 semesters (1 school year)
Cost: $6,615.32*
*cost reflects domestic tuition and excludes residence, meal plan, and personal expenses
Best U.S. Professional Diploma Program
UC Berkeley, California, The United States
As part of their Continuing Education program, UC Berkeley Extension offers several short-term programs (1-3 semesters), including UX/UI Design. Students have the option of either taking a UX design Immersive, a UI Design Immersive or a professional diploma program. The main difference between the immersive(s) and the professional diploma program is the completion time. Immersives can be completed in one semester, but students have the option to continue for another semester and gain eligibility for a three-month internship and OPT (Optional Practical Training). If students decide to take adjacent electives, they will receive a Professional Diploma in Project and Agile Management.
What sets this program apart is the relationship between UC Berkeley and the tech industry situated in the bay area and Silicon Valley. The ability to intern and network with leading companies in the field gives students a "foot in the door" and valuable connections.
Best for: Professionals who want to increase their employability and network with big tech firms.
Cost for Professional Diploma: $22,000 (USD) plus the value of the internship and electives
Best Free Online UX Design Program
Springboard.com
Springboard offers an in-depth UX design curriculum at no cost for students. This curriculum is beginner-friendly, so students do not need any previous background in the field. Given the virtual nature of this program and the absence of a completion deadline, this program works well for those with busy schedules and who are not able to commit to a traditional certificate or college program. With over 55 hours of content, students will learn about design research methods, user-centered design techniques, how to conduct user interviews, create user persona, and produce deliverables.
Best for: Anyone who wants to gain a fundamental understanding and basic skills for UX design independently and without the constraints of a completion deadline.
Average completion time: At your own pace
Cost: Free
Best Free Online UX Design Program: Runner Up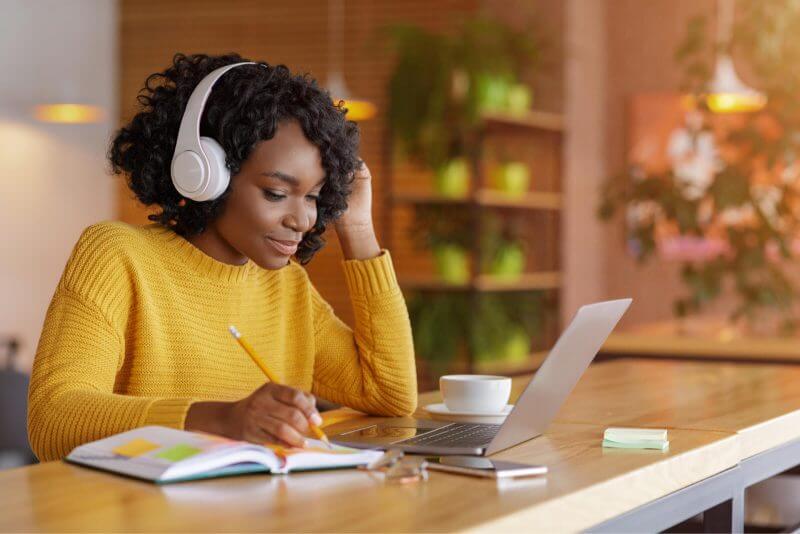 InVision.com
InVision has several e-courses in the forms of e-books focusing on UX, such as Principles of UX Design, Fundamental UI Design, and Design Workflow with Sketch. In exchange for your email address, InVision will email you a chapter per week that covers the fundamentals of UX design. With nine lessons in total, students will cover topics such as user research, project planning, and process, user personas, information architecture, and UX visual design.
Best for: Beginners who want to learn the basics of UX Design in a semi-structured environment.
Average completion time: 9 weeks (1 week per chapter)
Cost: Free
Best Canadian University Masters Program
The University of Toronto, Toronto, Canada
The University of Toronto offers a Master of Information with a concentration in User Experience Design. This two-year program is designed to be a mix of theoretical and practical hands-on approaches to equip students with a well-rounded education that will support their career as UX designers. Throughout their time at U of T, students will get to work with traditional digital systems as well as human-computer interfaces while solving a variety of design problems. Students are offered a range of learning opportunities that will prepare them for a career post-graduation, including a paid Co-op placement, practicums, job shadowing programs, and the ask-an-alum program.
Best for: Experienced designers who want to develop their UX Design skills while working with a variety of digital technologies and take advantage of the opportunities this program provides.
Average Completion Time: 2 years (full time)
Cost: $7,030*/ year
*Cost reflects tuition for domestic students and excludes residence, meal plan, and personal expenses.
Best Canadian University Masters Program: Honourable Mention
University of Waterloo, Stratford, Canada
The Stratford School of Interaction Design and Business, located at the University of Waterloo's Stratford Campus, offers a Master of Digital Experience Innovation (MDEI) program. While this program provides a well-rounded education regarding the digital media industry, there is not enough concentration on user experience design to make this program a suitable choice for those pursuing UXD specifically. Instead, this program is a mix of several different topics, including project management, marketing, media as an industry, and user experience. If you are interested in digital media but unsure if you want to pursue UXD, then this program will provide you with a well-rounded education while enabling you to dip your toe into UXD without having to commit to a full deep dive.
Best for: Students who are interested in a business degree that has some User Experience elements.
Average Completion Time: 2 years (full time)
Cost: $2,254.00/term
*Cost reflects tuition for full-time domestic students and excludes residence, meal plan, and personal expenses.
Most Distinguished Graduate Program
Parsons School of Design, New York, United States
The New School's Parsons School of Design is one of the most distinguished design schools in North America. The recently added Master of Professional Studies in Communication Design with a concentration in digital product design master program was explicitly created for practicing designers and professionals with a design background who wish to expand their digital skillset. This one-year program offers students the opportunity to learn about interaction design, typography, visualization, user experience, coding, prototyping, and business management.
Parsons's distinguishment comes from its reputation as an institution. Graduates from this school who are entering the workforce have the advantage of graduating from one of the top design schools in the country, providing them with numerous networking opportunities.
Best for: Experienced designers who want to take their education to the next level.
Average Completion Time: 1 year
Cost: $$51,750 /year
*Cost reflects tuition for full-time domestic students and excludes residence, meal plan, and personal expenses.