ROSSUL is Named Clutch 2018 Global Leader!
We're proud to announce that ROSSUL was named as a Clutch 2018 Global Leader! This year and in years past, ROSSUL has been featured as a leading UX design agency both globally and in Canada.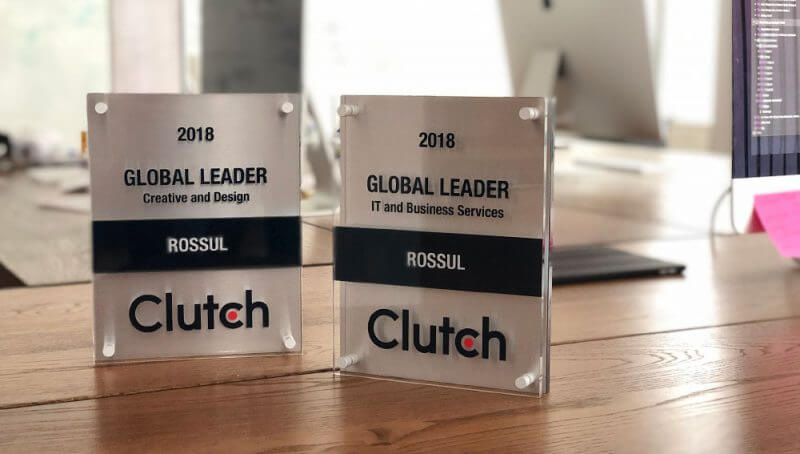 ROSSUL, founded by Elia Kanaki in 2003, has spent over 15 years perfecting the craft of user experience design. We pride ourselves on being able to design applications in a way that is not only useful and useable but empowering to users.
What sets us apart? A few things. ROSSUL is a small and agile firm, so we are able to quickly integrate into our clients' projects. Next, we use our proven methodology to support user needs and business goals. And, we are willing to ask questions, challenge assumptions and nudge clients into directions that are best for the end-user.
Clutch.co is an independent research and reviews company based in Washington, DC. Clutch.co researches and evaluates thousands of UX agencies from across the globe and ranks them based on capability, market presence, and previous client experience. Currently, our Clutch rating stands at a 4.9. Some client reviews include:
"Elia knew what I needed when I didn't even know it myself, which was absolutely amazing"
CEO, Vista Health Solutions
"It's been great to have a partner whose recommendations we can trust." President, APP technologies
"They approached it from the perspective of real users, which is always refreshing."
CTO, Financial Service Company
As a design agency, we pride ourselves on being able to deliver high quality and useful work that will empower both your company and users, and we are delighted to be able to deliver such results at a quick pace. Explore all of the Clutch reviews or visit our portfolio to see examples of our work.