The Manifest Names ROSSUL As One of The Most Reviewed UX Strategists in Toronto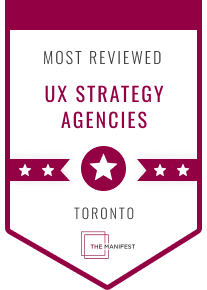 User experience is something every business should plan and prepare for, because their success depends on how their services make the customers feel. This is often a tricky situation and should be appreciated on a case-by-case basis. But businesses can definitely widen the net of satisfied customers if they properly plan for it.
This is where our team comes in. We give our clients the tools to maximize their customer's chances of feeling fulfilled when they decide to engage with a product or service. Our team is quite good at this, which is why we've been named one of the most reviewed and recommended UX strategists in Toronto by The Manifest.
Companies listed on The Manifest as industry leaders earned their place through the support of their clients and partners. These awards are aimed at helping companies find their ideal vendors and complete their upcoming or ongoing projects.
"We are thrilled to have been chosen as one of the leading UX Design agencies in Toronto by Clutch! I want to thank our clients for their business and the trust they put in us. We are committed to serving you with excellence for years to come." - Elia Kanaki, CEO of ROSSUL
We want to use this opportunity to express our gratitude to everyone who made this unique accomplishment possible for our team. Their initiative in sharing their thoughts on our work is the single most important element in our current success. Our goal is to continue our current momentum to finish the year strong and start 2023 on a big high note.
If you want the best team in your corner for your next project, start learning more about our services by visiting our website today. Talk to us about your next big idea and our team will provide you with a clear roadmap on how to achieve it.